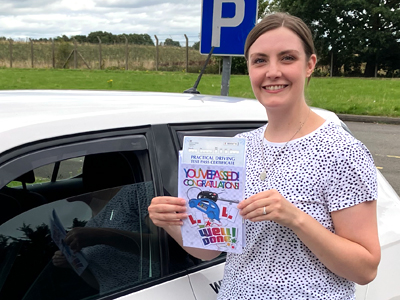 Jennifer Hadley
I passed with Emlyn
I've had a couple of driving instructors and have found Emlyn by far the most experienced, calm and patient. We worked together to find the right amount of driving hours before my test and Emlyn was flexible with lesson times and days too. If you are a nervous driver, Emlyn will put you at ease! He's very friendly and chatty and gives excellent tuition! Thank you again!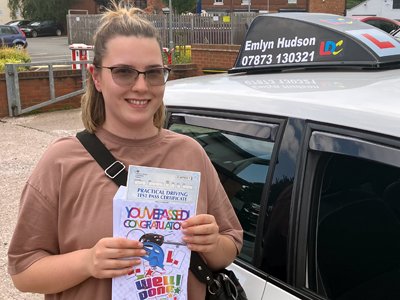 Holly Hickman
I passed First Time with Emlyn
Emlyn is certainly a top tier driving instructor. He's friendly and puts you at ease very quickly. He is patient and is always calm and clear in his communication. I feel I've learnt pretty quickly and at a comfortable pace to me. Emlyn gives feedback and tips whilst driving so you spend more time learning on the road rather than pulling over. I like that he lets you identify what went well and what didn't at the end of a lesson so you take ownership of your own learning. The test was exactly like a driving lesson which definitely helped settle my nerves quickly during the test. I would highly recommend.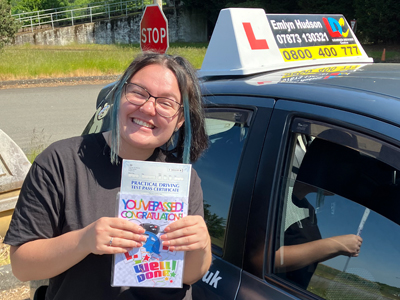 Emily Tonks
I passed with Emlyn
Emlyn is a brilliant instructor to have, from the first moment he is able to put you at ease and has incredible patience. He's makes every lesson an enjoyable experience and is always understanding and honest with your progress and what we can do to improve. I was a very nervous driver and Emlyn was able to help build my confidence to help me pass my test.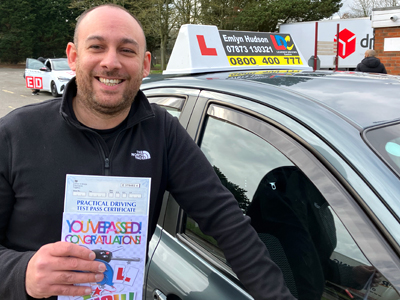 Blaine Steede
I passed first time with Emlyn LDC Driving School
Emlyn's LDC Driving School Emlyn's approach to driving made my learning to drive extremely easy and more than anything, fun! I'd had some experience driving already but Emlyn took me back to basics, got rid of my bad habits and taught in a way that made learning the rules of the road and how to read the road simple and easy. It's sometimes easy for instructors to take money from students for the sake of it, Emlyn realised my ability, and given my test wasn't for 5/6 months, we agreed a schedule that allowed me to learn what I needed which didn't cost me the earth. Price wise; Emlyn was competitive. Overall, I would highly recommend Emlyn for his driving knowledge and down to earth personality, and if you're lucky he might tell you a funny story or two.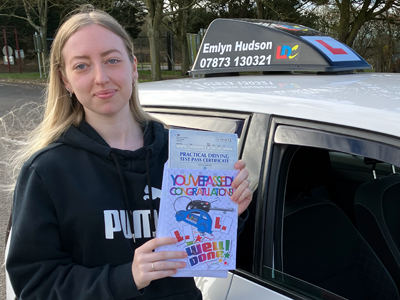 Hannah Grey-Davis
I passed with Emlyn
I would recommend LDC as my driving instructor Emlyn was very patient, professional and has a good sense of humour which helped put my nerves at ease.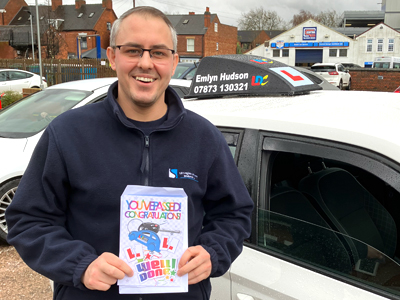 Brett Drewsbury
I passed with Emlyn
After attempting to get my driving licence over the last few years, my brother pointed me in the direction of a fellow driving instructor at LDC driving school, that man was Emlyn. The moment I started taking driving lessons with him, I knew that this gent would get me through it. Emlyn is a very patient and calming influence in an environment that can crush your nerves. Not being the youngest of learner drivers, having tried to learn over the years, he gave me the belief to not give in to the pressures of taking the test, passing at the 3rd time of asking. Over the period of time I was learning with him, he gave me all the information and materials I needed, all the advice one would need in different situations on the road. Emlyn is very professional and makes you feel at ease at the wheel, he likes to crack a joke or 5 to help you stay calm. I highly recommend him to anyone and have already pointed a few people his direction. It was a pleasure to pass with Emlyn. Thank you mate. 5 Stars!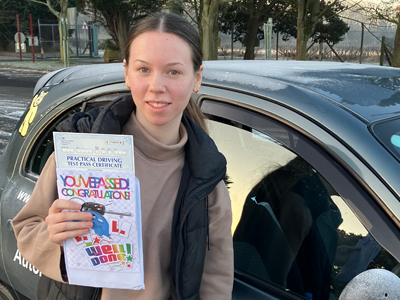 Bethany Beckett
I passed with Emlyn
I have been practicing driving with Emlyn for 20 hours in total but six of them was practicing before my tests due to having two cancelled tests and 1 fail and then I passed second time. I would highly recommend Emlyn at LDC as an instructor, as he always made me feel comfortable and confident right from the start.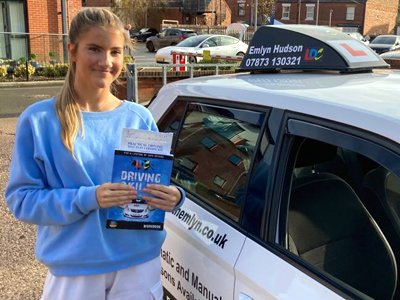 Hannah Phillips
I passed first time
Emlyn is a patient and supportive driving instructor- teaching me to be safe on the road even after I passed my test. Driving lessons were helpful especially with the LDC workbook to support my learning outside of lessons. Would definitely recommend, thank you Emlyn.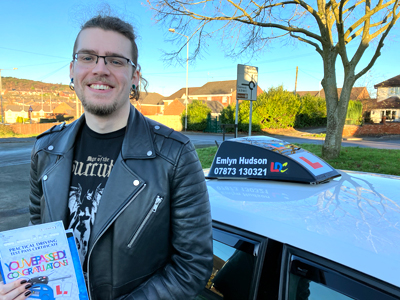 Adam Barker
I passed first time with Emlyn
Emlyn has been fantastic from start to finish and I couldn't have asked for a better instructor. During lessons he was very thorough and answered all of my questions whenever they came up. He allowed me to learn at my own pace and gave me enough space to make mistakes so that I could learn from them in the future. Everything that could of been turned into a positive learning experience was and I am extremely grateful for that. He also provided me with a plethora of resources to help me learn outside of lessons. Outside of lessons Emlyn is just a genuinely fantastic and down to earth bloke. Overall it was an absolute pleasure to learn from Emlyn. He supported me at every step of the way. You won't find another instructor as good as him so if you have the chance I would 100% say pick Emlyn! Thanks again (: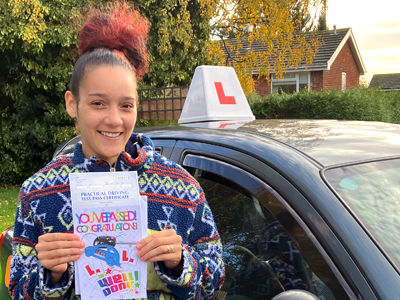 Rhean Spence
I passed first time
I couldn't of asked for a better instructor when it came to doing my lessons. Emlyn made me feel so relaxed in every lesson, his calm way and easy explanations really helped. I only started driving with Emlyn at the end of July and I took hour lessons each week some 2 I wasn't sure at first I was going to pass but with Emlyns help it made it so much easier to do and I'm proud to say I passed on my first ever time. It has been a pleasure learning with you 😊 thank you for everything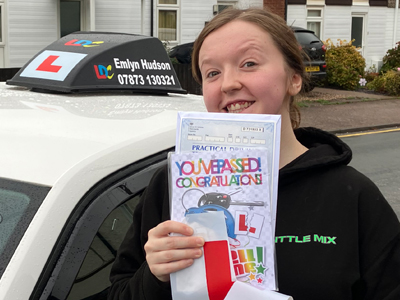 Jade Hardiman
I passed with Emlyn
When I came to Emlyn I was about to quit on driving all together as my self confidence was very low due to awful experiences with previous driving instructor. But from even the very first lesson, I was put at ease and felt comfortable and towards the end was happy. Emlyn is incredible as I could be very much in my own head so he would be able to talk me around and really let me visualise what he needed by demonstrating through verbal or drawing a picture to even showing me. With every lesson we would get our goals and achievements done for the lesson but we still had laughs along the way and that's what I believe sets him as an instructor different from the rest. I would look forward to every lesson I would always smile after, the potential he sees and how he can elevate that further, the comfort I felt through not achieving something quite right he is quick to help and be there and knows how to show you until you feel comfortable and happy doing that one thing whether it's a manoeuvre or action. I couldn't recommend Emlyn enough the confidence as a driver I feel now is incredible and that's all thanks to him. I truly feel lucky to have been his student and now get be on the road. I appreciate Emlyn so much for everything!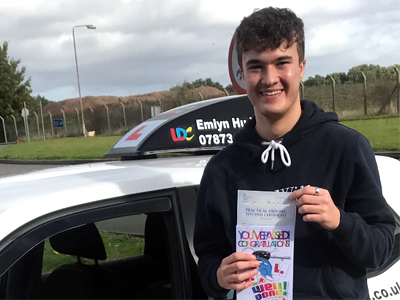 Luke McFarlene
I passed with Emlyn
Started my time driving with Emlyn just before the Covid lockdown after many failed tests with a previous driving instructor who offered a lack of support and understanding for a nervous driver such as myself! This really knocked the little confidence I had left regarding driving and was put off driving altogether! My dad suggested to go with Emlyn as he is local and heard lots of positive feedback about him and his driving techniques/methods. I wished I had Emlyn teach me to drive back when I started learning how to drive because on my 5th test (1st test taken under Emlyns tutelage) I passed with minors which is far better than the previous serious's and a couple dangerous's I had before. Emlyns teaching techniques wasn't yelling or getting frustrated but was calming, patient and reassuring especially in what I considered a pressured situation. This helped boost my confidence and overall enjoyment with driving and I sincerely recommend future drivers to be to contact him as I wished I did when I started to drive way back when.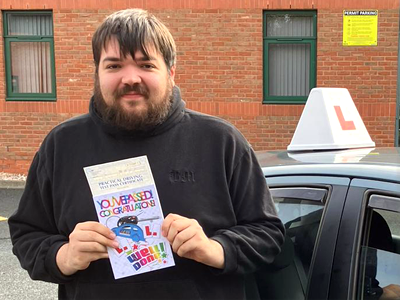 Jake Burnyeat
I Passed FIRST TIME
I just recently passed with Emlyn on Monday 3rd October 2022 here's a bit of my story. I have got learning difficulties and I had to wait above 8 months to get my provisional license. So I first met Emlyn at my house he come over to introduce himself we had a bit of a laugh and went over a few things and give me a book about driving. My 1st lesson I was so nervous we went for a drive he drove there and then we pulled up and he let me take over the wheel and let me drive back home which was awesome I was driving for most of the lesson. I passed in an automatic, I had had a lesson in a Manuel car with a different instructor before I met Emlyn. It didn't go well and I didn't drive half the time I did with Emlyn.
Emlyn never shouted at me once during our lessons and always had me smiling and laughing during our lessons. Fast forward a few lessons he taught me so many new things about driving and made me come above my fears. It was about my 20th lesson on and he kept pushing me to do my theory test he was always telling me to study and was teaching me the highway code while we were driving. It took me 4 attempts to pass, my 1st one I failed by 1 mark and my other 2 by 1 and 2 marks. By my 26th lesson I passed my theory got 48/50 right, without Emlyn I wouldn't have passed or had the motivation without him, he picked me up at my lowest when I didn't think I could do it and he believed in me all the time and never gave up on me.
Day after I booked my practical I was super lucky to had it 11 days after I passed my theory. On the 27th lesson he took me on a few test routes around Stafford and it helped me so much, he took me on a 3 hour lesson. 28th lesson come day of practical my test was at 11.11 he picked me up at 8.30. He settled my nerves we went over a few manoeuvres to make sure I'm ready and tested me on the eyesight test and show me and tell me questions and then we made our way to the test centre. I manage to get the tell me question right and the show me question right. I manage to do my manoeuvre safe enough and once I finished the driving I was driving back to test centre so nervous. I manage to pass with 3 Minor driving faults. I was over the moon I definitely wouldn't have done it without Emlyn and I can't say thank you enough he has changed my life and will always be grateful. My sister now is going to be taking up lessons with him in the future.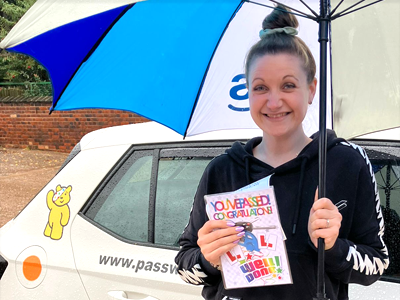 Natasha Perry (Jackson)
I Passed FIRST TIME
Firstly I would just like to say thank you for helping me achieve something I never thought I would. For helping me to build my confidence and realise I can drive. Confidence was a major issue for me but how I can say I feel more confident than ever achieving a first time pass!! I have always struggled with my left and right and this was a big worry for me driving. Thankfully you picked up on this very early on in my lessons and adapted your teaching method to suit my way of learning. Our lessons were always fun and I always learnt something new every time. Our "what went well" and "didn't go so well" talks at the end of our lessons were constructive and always ended on a positive note. I would highly recommend you to anyone to teach them how to drive. Thanks again Tash.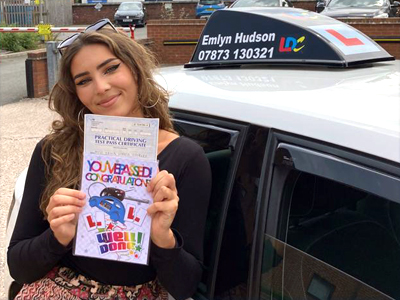 Erica Shirley
I passed first time
I'm so happy to have had Emlyn as my driving instructor. Even when I was just beginning to learn to drive, his patience and calm explanations put me instantly at ease. I always felt safe and supported during our lessons. No question felt too silly and if I didn't understand, Emlyn found a way to explain it until I did. I couldn't recommend him enough!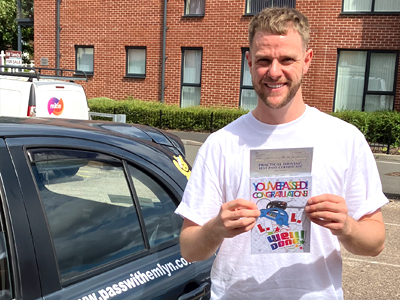 Matthew Bailey
I passed with Emlyn
Third time lucky for me passing my test – and I wouldn't have had it any other way! I learnt from my past driving faults and improved massively, with the help and encouragement from Emlyn. I've suffered with dyspraxia since I was a child and my co-ordination isn't great but Emlyn had a lot of patience with me and made my lessons really fun! He is very professional and has a lot of banter too so you always feel comfortable. I have no hesitation is recommending him as an instructor – he's the best in the area!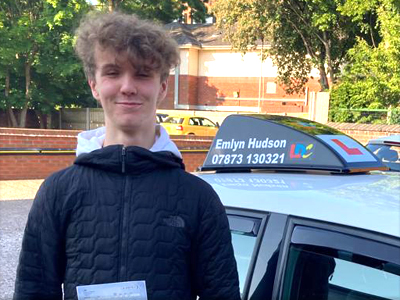 Harry Steele
I passed with Emlyn
Emlyn was my instructor for a few months and during that time I felt as if I was in very capable hands. Emlyn was very calm and patient with me when I know others definitely wouldn't have been and he has helped to develop my driving to allow me to not only pass my test but to feel safe on the road both during my lessons and after my test. I can't thank Emlyn enough for things he has taught me and I've really enjoyed all of my lessons with him so I would definitely recommend him to anyone who's looking to learn to drive.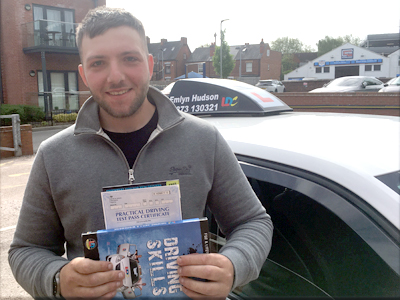 Ryan Parry
I passed first time
Just wanted to say a massive thank you to Emlyn for supporting me in passing my driving test. You was patience and was flexible around my working hours and I can't thank you enough. Would highly recommend to anybody wanting to learn to drive.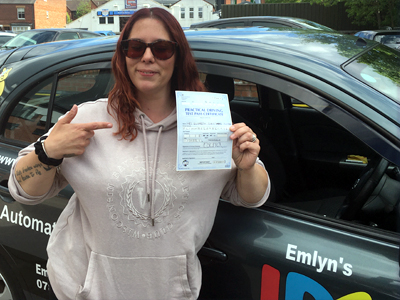 Liz Plimmer
I passed with Emlyn
3rd time lucky passing my test. My nerves & overthinking got the better of me, but with Emlyns exceptional patience, time, knowledge, persistence, hard work and client based learning I got there in the end. He always went above and beyond in every lesson to make sure I understood everything. Sometimes it took me a while but Emlyn was ever so patient and never made me feel silly or pressured. My first ever lesson he made me feel at ease. He believed in me and that gave me more and more confidence as time went on. As happy as I am that I've passed I'm going to miss having lessons, I learnt so much from Emlyn. He's the best instructor I've had and a genuinely nice person.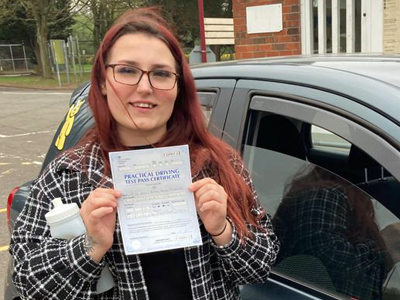 Amy Rose Garner
I passed with Emlyn
Without learning with Emlyn I wouldn't have had the self belief that I could. He makes you feel comfortable as if you've known him for years, such a bubbly man and always has a way to explain things so that you understand. Can't thank you enough Emlyn for believing in me and helping me achieve a pass !! Couldn't recommend Emlyn more !!!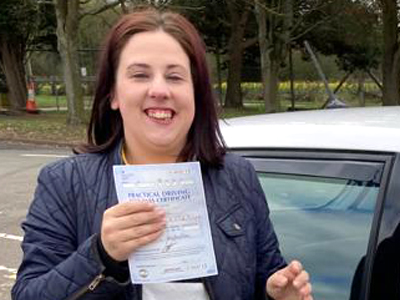 Tanya Nicholls
Passing with Emlyn
Emlyn I just want to say a huge thank you for pushing me and never giving up on me, you always said to treat your driving test like it was driving lesson and I did, thank you again I will miss our lesson and you also making me laugh on them. Thank you Emlyn.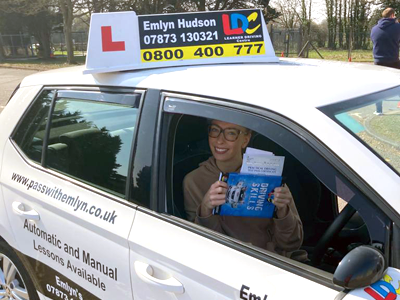 Rosie Hand
I passed first time with Emlyn
Emlyn made me feel really comfortable and more confident about my driving from the first lesson. He explained everything thoroughly and did not hesitate to go through anything I didn't understand. He used many pictures, models and real life scenarios to teach me and had great reference point advice for manoeuvres. Emlyn always encouraged me to keep my nerves at bay and always made sure we did a thorough reflection after each lesson to make sure we knew exactly what we had left to cover. He always included the "show me" and "tell me" questions in our lessons so that they didn't catch me out on the big day! Due to this, I passed first time! Highly recommended!
Chance Bowen
Passing with Emlyn
I'd lost confidence in driving due to a bad instructor. Emlyn helped me build my confidence back up, improve my driving skills all whilst putting a smile on my face and making me laugh. He's an all round people's person. You will definitely be making the right choice in learning to pass with Emlyn. He had a lot of patience and great understanding of myself. I will recommend him over anyone and to my friends who want to learn in the future!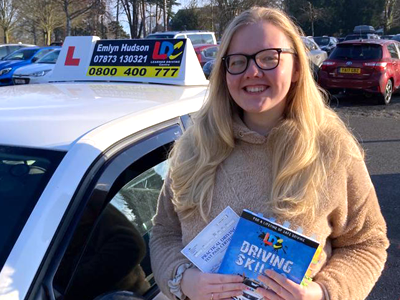 Jessica Buller
I passed with Emlyn
A massive thank you to Emlyn, he is very patient and understanding. When I struggled in certain areas he found different methods to show me and help me understand. He helped build up my confidence and listened to all my queries. I thoroughly recommend him!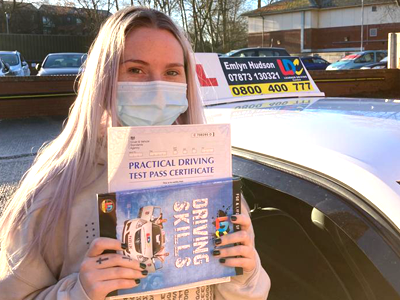 Chloe Ward
I passed first time with Emlyn
Emlyn is without a doubt the best driving instructor! he's so patient and supportive and he really boosted my confidence. I highly recommend for anyone wanting to do lessons! going to miss our lessons and all your jokes!thank you again!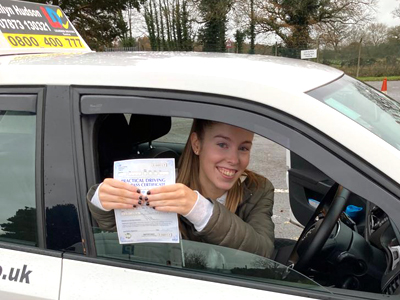 Lauren Silk
I passed with Emlyn
Emlyn is a very knowledgeable and supportive instructor. I felt relaxed and comfortable learning to drive with him. I would highly recommend him to anyone.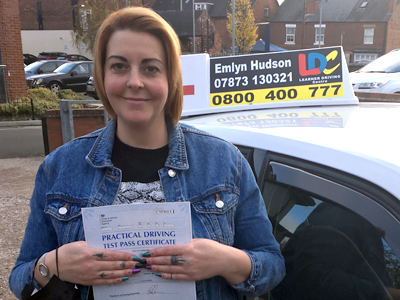 Kate Bagnall Stenning
I passed with Emlyn
Well what can I say, what a thoroughly bloody nice chap. Extremely knowledgeable, friendly and I've always felt relaxed while learning. I can also sincerely say that his focus is getting you passed there's no trying to pad out the process A* Instructor!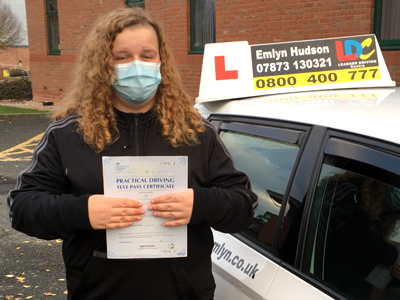 Katie Dudley
I passed with Emlyn
Emlyn was a great driving instructor because every lesson was informative,enjoyable and relaxed. During lessons Emlyn was very calm and if I made a mistake he would ask how we would make it safe and go through what to do , he would always ask me what I wanted to look at during lessons so he knew I was learning from each lesson. Emlyn went into lots of detail when explaining what i had to do and made sure I knew fully what I had to do in each situation. I would recommend him to anyone who asked me for an instructor. Thank you 😁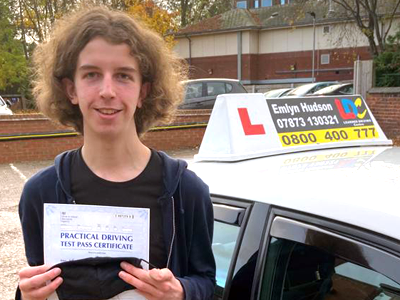 Joshua Mason
I passed first time with Emlyn
Thanks to Emlyn I passed my test first time today. I suffer from anxiety and from my first lesson he made me feel comfortable and at ease. He's patient and knowledgeable and has taught me everything I need to know to be a safe driver. The feedback at the end of each lesson and the LDC workbook along with the website access is really helpful and was useful in passing my theory and developing my driving skills. I would highly recommend Emlyn, his fun lessons have made learning to drive an enjoyable experience.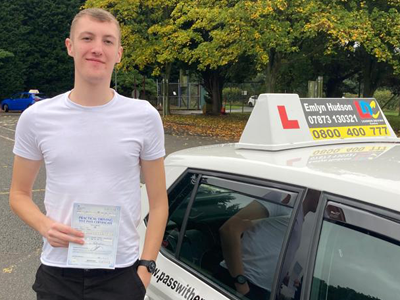 Ben Tirgu
I passed with Emlyn
Emlyn is a patient and understanding instructor who always tried his utmost to make me feel comfortable when I was controlling the car. He is easy to get along with and very talkative, which really helped to build my confidence behind the wheel. He always made sure to reinforce any positive aspects of my driving, and he was never condescending when giving advice. He makes sure to give good feedback and discuss the drive after every lesson. I can't recommend him enough.
Ellie Humphies
Passing with Emlyn
Over the past year I have had lessons with Emlyn and I wouldn't have wanted them with anyone else, he made me at ease and made them enjoyable. He would always tell me when I did something wrong and told me how to do it properly, if I didn't understand anything he would show me how to do it which I did and on Tuesday 12th October I passed my driving test all thanks to Emlyn. Thank you so much x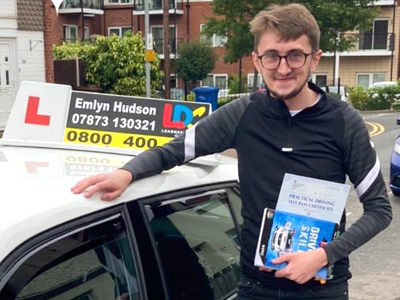 Louis Gill
I passed first time with Emlyn
Choosing LDC from the offset I knew that the additional support their online program offered would benefit me, giving me a prior understanding of what I would be doing in the car that week, supporting me in both my theory test and practical test. Starting in December 2020 I was nervous behind the wheel, panicked often and anxious about the prospect of theory and practical tests, no matter how far away they seemed.
Right from our first lesson Emlyn, with humour and good spirit, allowed me to overcome these nerves, my panic and anxiety behind the wheel ultimately supporting me and enabling me to pass both my theory and practical test first time. Alongside Emlyn's patience with me allowing me to be comfortable driving was the frequent reflections at the end of lesson, where we would both evaluate what we felt went well and more importantly what needed improving, roundabouts for me at the start was something I needed to work on and the next lesson that's what we looked at intensively, allowing me to be confident with any obstacles I encountered.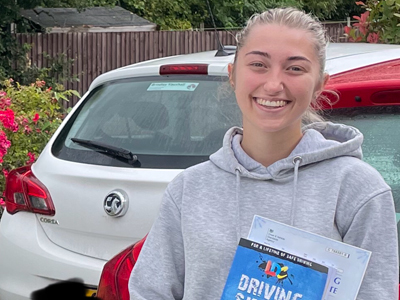 Lauren Arrow Smith
I passed with Emlyn
Emlyn is the best instructor ! He made driving fun and a laugh whilst also giving me everything I needed to not only pass but to drive confidently on my own. He is very supportive and encouraging and helped me to build my confidence with driving, as when I first started I was nervous but eased right into driving because of his amazing teaching style. Me and Emlyn always had a great time on our lessons and I cannot thank him or recommend him enough and I am genuinely going to miss our lessons :(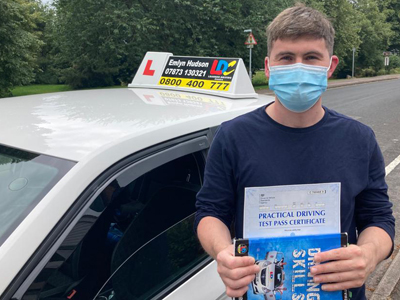 Steve Barrasford
I passed First Time
After having previous lessons with another instructor a number of years ago I started learning with Emlyn after a friends recommendation. Being very self critical Emlyn was able to remain calm and more importantly keep calm. Throughout the lessons he adapted how he taught certain manoeuvres to suit how i approached them. We were hit by delays with the COVID pandemic but i was happy with the structured manner in how we re-approach driving with the lengthy break between lessons. All in all very happy and the results speak for themselves, first time Pass with Emlyn and with only 2 driver faults on the test.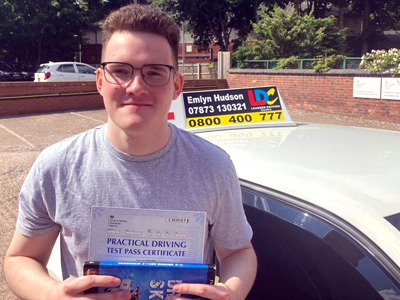 Peter Lunt
I passed with Emlyn
I failed my first two driving tests due to lack of observation of speed signs and at junctions. After continuing lessons with Emlyn he helped me to fully address this and thankfully I have now passed. Third time lucky! Emlyn provided an excellent service and covered everything needed to be successful. Thank you!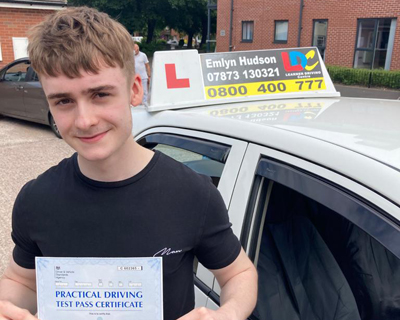 Ben Leather
First time pass
Emlyn was great in helping and supporting me in getting my driving license and teaching me how to drive safely on the road. Emlyn is a great driving instructor and has lots of patience and knowledge and I would highly recommend to anyone looking.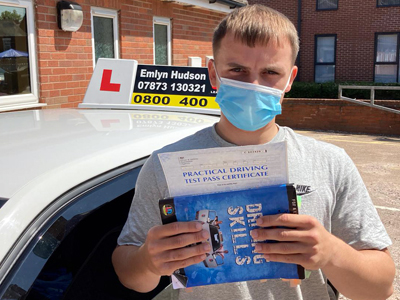 Liam Cook
First time pass
Great instructor, very upbeat makes the lessons not feel like a chore. I passed in under 16 hours worth of lessons and first time. Would recommend to everybody if you want a friendly helpful instructor. 👍🏻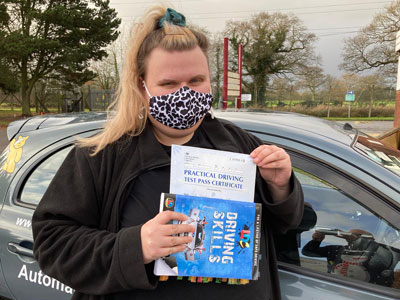 Nareece Taff
First time pass
Before starting lessons with Emlyn the thought of driving a car made me so nervous. Every time I got behind the wheel I always went into panic mode. Emlyn was so understanding and patient and after a couple of lessons my confidence began to grow. He made learning driving drive such an enjoyable, fun experience as well as being reliable and easy to contact (even during lockdown) and after 5 months of lessons I passed my driving test first time. I cannot thank Emlyn enough for for everything he has taught me.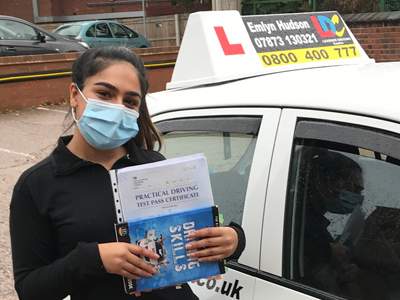 Shannan Rana
Passing with Emlyn
Driving lessons with Emlyn was the best thing i did due to the fact he is so calm, always making sure to let me know about significant road signs and markings to make me more alert and a better driver overall which led to me having just 20 hours and passing my test. The training felt so easy from the way it was explained and never once felt like i was being told off for making errors which was a relief. Best choice was choosing Emlyn as i have now passed from his training.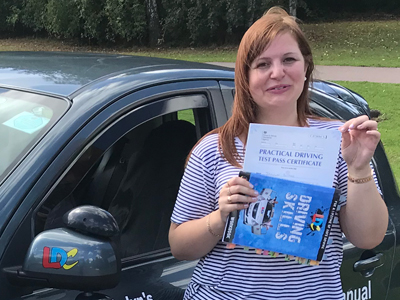 Jamielee Buffong
First time pass
Emlyn is the most amazing driving instructor you could ask for. I have managed to pass my driving test first time and I'm Absolutely over the moon. Not only is he a brilliant instructor, he also helped me believe in myself as I was a nervous driver. Emlyn was always reassuring and always calm, full of jokes to settle the nerves and always made time to help me, listen to me and answer any questions at any time, he honestly goes above and beyond for his students. I will honestly miss our driving lessons and the smiles that they bought. If your looking for lessons and want a confident instructor who is fun, calm, and passionate in helping you to succeed then Emlyn is the instructor for you.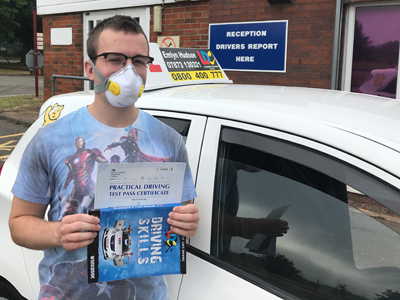 Fraser Llewellyn
I passed with Emlyn
Emlyn is the best driving instructor you could ask for. When driving he helps keep you calm, teaches you professionally and accurately, whilst also making driving fun. He has a great personality and is very comfortable to be around. If you're looking for a driving instructor, look no further than Emlyn.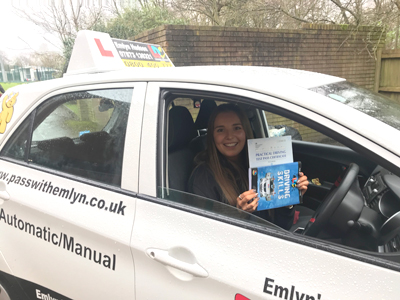 Fiona McParland
Passing with Emlyn
I thoroughly enjoyed my driving lessons with Emlyn. He was a bubbly Instructor that I could talk to, whilst he taught me how to drive. He made me feel at ease behind the wheel and helped to quickly build up my confidence in driving on the roads and in mastering manoeuvres. Emlyn taught me how to follow the rules of the road as well as to be a safe driver on the roads and because of that I passed my test first time! I would definitely recommend learning to drive with Emlyn because he'll help you get rid of those 'L' plates in no time!!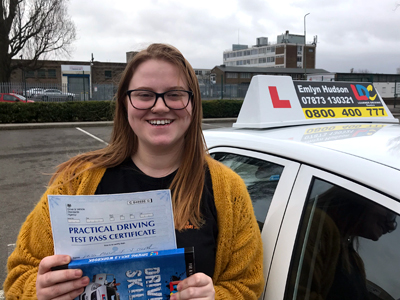 Alicia Cooper
I've passed with Emlyn
I had almost a year of lessons with a previous instructor and felt like I was getting nowhere. I then broke my arm and my confidence in driving was destroyed. I tried Emlyn and after my first lesson he pushed me to take my theory and my confidence improved massively. I would 100% recommend Emlyn to anyone, especially those who struggle with nerves or confidence.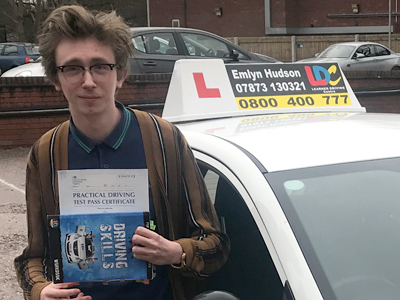 Euan Hopwood
I passed with Emlyn
Emlyn is easily the best driving instructor i've ever had. He was understanding, calming, and a joy to learn with. He allowed me to learn at my own pace, would often give me challenges to overcome, and when things went wrong he gave me the chance to resolve the situation - only stepping in when it was 100% necessary. Emlyn's lessons made me enjoy driving, and I can't thank him enough for his help & guidance. If you need a reliable, talented, and trustworthy driving instructor then look no further.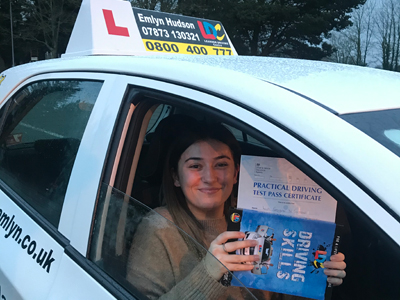 Leah Simons
I passed with Emlyn
Learning to drive with Emlyn has been a pleasure!! He is very patient and understanding, despite me doubting myself all the time, Emlyn gave me the confidence to book my theory and my test. He's calm and very knowledgeable, which there's no pressure when driving and if there is something you need to improve on, he explains in a calming way. I enjoyed every driving lesson with Emlyn, and now I've passed I will definitely miss my lessons!! Not only that, you also get a book, dvd and online resources to help you along, which I found incredibly useful. I would 100% recommend Emlyn if you are looking for driving lessons!!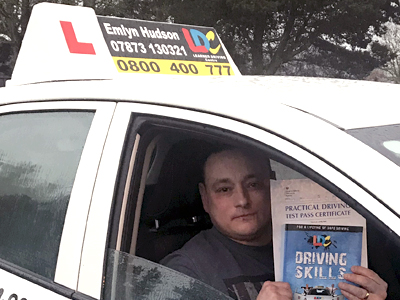 Scott Perkins
Passing with Emlyn
I passed with Emlyn Hudson couldn't ask for more in an instructor I found his methods simple but direct. This allowed me to progress quickly and safely leading to a confident pass all this accompanied by the LDC book and driving skills DVD. I would highly recommend the LDC system to everyone from first time drivers to those with experience. Overall a professional and friendly service from start to finish.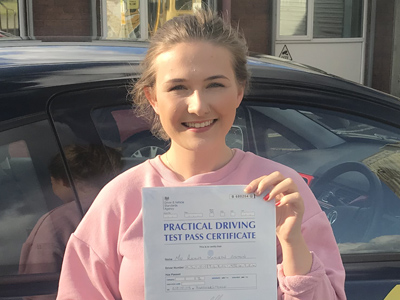 Reeana Aston
First time pass
Emlyn is a very patient, enthusiastic and professional driving instructor. He really helped me to gain confidence in my driving to the point where I was able to pass first time. He encouraged me to come out of my comfort zone by trusting my driving skills to complete more difficult driving. I would highly recommend Emlyn as now I feel fully confident to drive on my own.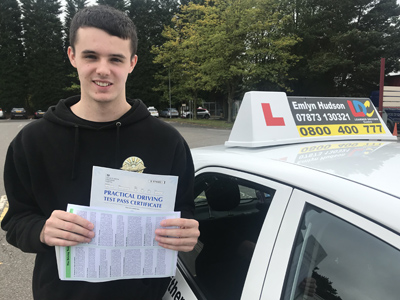 Jay Oliver
Jays journey
Learning to drive with Emlyn has been a really good journey. From having a previous instructor to changing to Emlyn every lesson I felt more confident and comfortable driving with him teaching me. If I did something wrong there wasn't any moaning just encouragement to improve on what I messed up on and finally getting me through my test which I can't thank him enough!!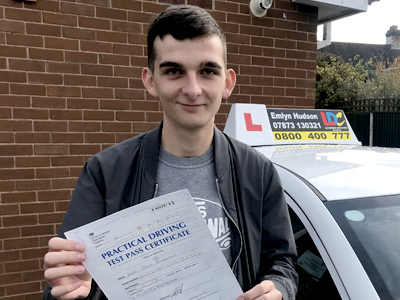 Ross Sharman
First time pass
I managed to pass first time with Emlyn's brilliant teaching. He has helped me to grow my confidence with driving and has been so patient! His now given me the skills I need to be on the road and be a confident and capable driver. I'd 100% recommend him to anyone looking for lessons.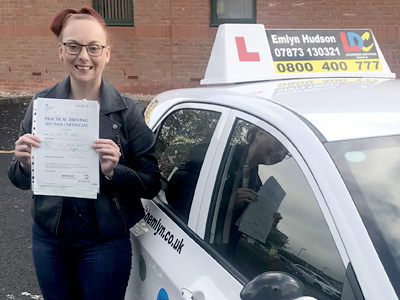 Katie Talbot
1st time pass
My daughter is Autistic and been trying to pass her Driving exams for four years now. She joined Emlyn at LDC Driving School two months ago and she has now passed and driving independently. I want to say a big massive thank you to Emlyn for helping her to achieve this huge milestone her life will change dramatically because of this success. Your patience and calm attitude has made this possible. Thank you again and that does not feel enough. You are a credit to your profession and all thelearner drivers. I would 100% recommend you Emlyn.
Chloe Stirling
My daughters journey
My daughter suffers from an anxiety disorder and was terrified of driving. We had previously tried several driving instructors both male and female but neither were able to sufficiently build her confidence to sit in the car, let alone drive. She was drawn to tears with her previous instructors as she struggled to cope with her anxiety. Then we found Emlyn. After three years of not sitting in the driver's seat my daughter passed her test with Emlyn after just 3 ½ months. He was so patient, kind and supportive and the only time she needed tissues was after her driving test. As a parent I cannot thank Emlyn enough for all he has done. My daughter is now able to move forward in her career as she can drive herself to work. So if you are looking for a special someone to guide yourself or your teenager through their theory and practical test I have not hesitation in recommending Emlyn; you will not be disappointed. Thank you from the bottom of my heart Emlyn you have been truly amazing.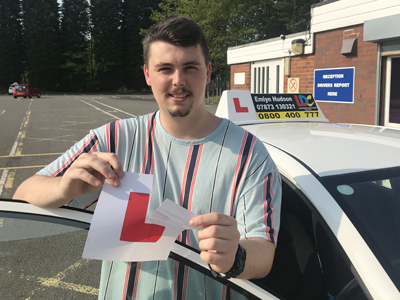 Liam Oliver
Passing with Emlyn
Learning to drive with Emlyn has been an absolute pleasure. After changing my driving instructor to Emlyn at such a crucial time in my lessons was quite daunting but he started from where I had left off and took the task on like it was nothing. He is such a calming influence and made my driving experience enjoyable. Cannot thank him enough for getting me through my test! 100% recommend Emlyn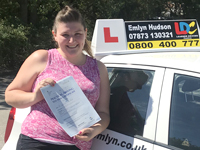 Ella Perry
Passed 1st time
Learning to drive with Emlyn has been a pleasure from start to finish. 😊 He is incredibly patient and understanding, I must have been a nightmare to teach as I panic and fret over everything!! But Emlyn has the skills to put you at ease and to give you the confidence to continue. 😊 I have had so much fun, we have laughed (uncontrollably sometimes) which has made passing my test bittersweet because now they're over, I'll miss my lessons!! Emlyn has a unique style of teaching which brings in famous names, such as Eddie the Eagle and Tina Turner, as daft as it sounds memorable cues are one of the things that helped me to keep my concentration while on test! I have no reservations about recommending Emlyn to everybody if they're wanting to learn to drive. 😊